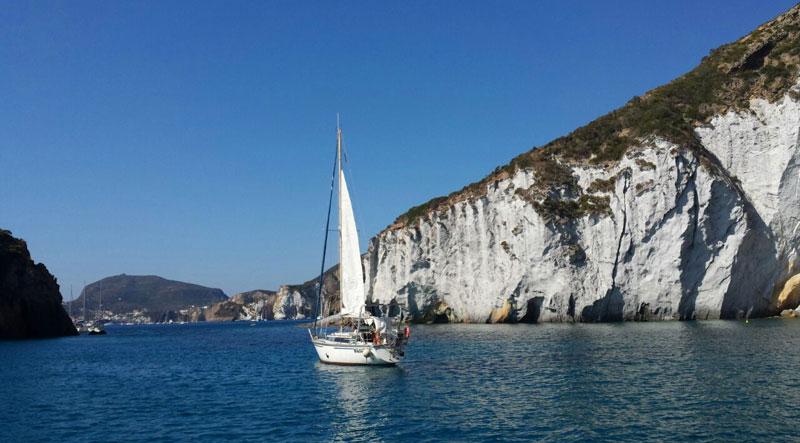 A week of relaxation among the volcanic islands and the Amalfi Coast
Day 1: Arrival in Procida, welcome cocktail on board with your skipper, Check-in and provision. Spend your evening through procidan's alleys.
Day 2: Typical Breakfast procidan and departure for Ischia, with possibility to visit the "Castello Aragonese" or excursion to "Monte Epomeo". Day at spa for lovers of relaxing.
Day 3: Sail to Sorrento: excursion to "Pompeii excavations" or to the "Vesuvius". In the evening shopping among the streets of Sorrento.
Day 4: Departure to Positano, where you can do an interesting excursion  "On the path of the gods".  Evening in the picturesque harbor.
Day 5: It is the turn of Amalfi, arriving in the morning; a walk to the historic center and a relaxing Jumping into the green water.
Day 6: Arrival in Capri, where you can make a wonderful tour of the island, visit "La Grotta Azzurra" and admire the "Faraglioni". Do not miss the caprese shopping and a have a walk at the famous nightclub "Anima e Core".
Day 7: Return to Procida can enjoy your a goodbye dinner.
Have e great time and ….
Vento in Poppa!
DETAILS AND COSTS
Included
Skippers service, welcome drink, fuel, dinghy and outboard, cleaning and linen, goodbye dinner.
Excluded
Mooring in ports other than basic (Procida), provision, any excursions.
Season B (29-04 / 23-06 and 09-09 / 29-09) 
€ 750 for pax
Season C (24-06 / 28-07 and 26-08 / 08-09)
€ 850 for pax
Min. 4 pax Max. 6-8 pax
Essential information
We recommend a cash fund managed by one of the passengers, to facilitate the extra expense
management (ex. provision).
Boats vary depending on the number of passengers; the allocation of the cabins takes all 'boarding and
second composition of the group, so you can not book a specific cabin. Cabins assignment take place on
check in, according to the group (ex. sex, age) Everyone, including the skipper, share bathrooms onboard.
Take always your identity card with you and think about an extra budget to handle any eventual
emergency situations.